Sad! One Of The Militants Killed In The Garissa University College Attack Was A Lawyer
As we strive to come to terms with the recent happenings at Garissa University College where more than 150 students lost their lives, details have since emerged that one of the militants involved in the attack was a lawyer by profession and son to a senior administrative chief in Mandera. The militant who was identified as Mohamed Abdirahim Abdullahi, is believed to be the son of Chief Abdullahi Daqara of Bulla Jamuhuri location in Mandera County.
He Scored an A in 2007 KCSE
The slain militant is said to have attended Wamy High school between 2004 and 2007 where he is said to have scored an A in his KCSE exams. Most of his classmates at Wamy high as well as his English teacher describe him as an obedient, hardworking, humble and harmless man. His excellence at KCSE level opened doors for him to study law at the University of Nairobi.
A Brilliant Upcoming Lawyer
Most of his friends at the University of Nairobi describe Abdirahim as a brilliant and an upcoming lawyer who graduated in the year 2013. Sources well known to him and his University life say that he used to be a lover of books and was always busy with his law books.
Used To Attend Radicalization Classes At Masjid Musa In Mombasa
Mohammed Abdirahim Abdullahi and his other friend only known as Mohammed (Atom) used to attend radicalization classes at Masjid Musa in Mombasa. The two are said to have been long time friends from high school and after being radicalized, they really wanted to join the IS group in Syria. Atom is said to have dropped his undergraduate studies to pursue his ambition to join the IS group something he achieved in 2012 after travelling to Syria. On the other hand, Abdirahim Abdullahi was not so lucky to join the IS since he did not have a valid passport.
Read: Pictures worth a 1000 words from the Garissa University College Attack
When his efforts to join the IS flopped, Abdullahi had a plan B which was to cross over and join the Al-Shabaab. He went missing early in 2014 when he is believed to have joined the Al-Shabaab.
Enough Regrets In Life
On learning of his son's involvement in the recent attack that left over 150 students dead and the whole nation mourning the untimely death of young boys and girls, Chief Abdullahi Daqara said that the fact that his own blood took away the lives of over 100 innocent lives has already given him enough regrets in life and has forever taken away the hopes of ever living humbly. For sure, we all have dreams and ambitions. The difference is the kind of dreams we have.
Here is a photo of the slain militant.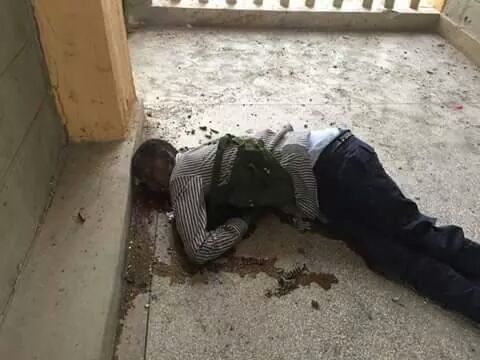 Here other slain accomplices of Abdullahi Mohamed in crime who helped him carry out the Garissa University College Attack.